Dentist Blog
Posts for: June, 2018
By Reserve Dental Group
June 20, 2018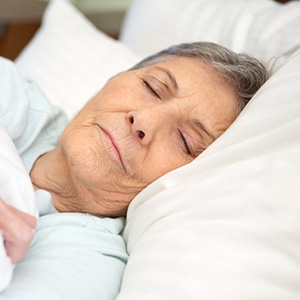 Perhaps you've heard the old saying: "Take care of your dentures and your dentures will take care of you." Well, maybe it's not that old—but it's still a sensible notion. Maintaining your dentures by routinely cleaning them and having them checked for fit will improve their longevity.
There's one other thing you should include on your maintenance routine—avoid wearing your dentures 24/7, especially while you sleep. This bad habit could lead to some unpleasant consequences.
For one, wearing dentures continuously can accelerate bone loss in the jaw that eventually causes your dentures to lose their comfortable fit. Bone loss is a natural consequence of tooth loss because the bone no longer receives the stimulation to grow transmitted by the teeth during chewing. Dentures can't transmit this stimulus; what's more, the pressure they place on the gums and underlying bony ridges could make bone loss worse. You can relieve this gum pressure at night by taking them out.
Dentures can also become a breeding ground for bacteria and fungi that cause disease, irritation and unpleasant mouth odors. Taking dentures out at night deprives these microorganisms of a prime opportunity to carry on business as usual—and it's also a great time to clean your dentures. People who sleep with their dentures in their mouth are more likely to have gum or oral yeast infections and higher levels of proteins produced by white cells that increase inflammation. That could contribute to other diseases throughout the body.
Besides taking your dentures out at night, you should also practice other daily hygiene tasks. Remove your dentures after eating and rinse them with clean water. Brush your dentures daily with a soft-bristled brush and dish or antibacterial soap or dental cleanser (no toothpaste—it's too abrasive for denture surfaces). Be sure you clean your gums and tongue every day too. When your dentures are out, store them in clean water or preferably an alkaline peroxide-based solution.
Removing your dentures at night and these other good habits will help extend the life and fit of your dentures. It could also help keep the rest of you healthy.
If you would like more information on denture care, please contact us or schedule an appointment for a consultation. You can also learn more about this topic by reading the Dear Doctor magazine article "Sleeping in Dentures: A Habit that Can Cause Health Problems."
By Reserve Dental Group
June 10, 2018
Even with picture perfect teeth, you may still be unhappy with your appearance. The problem: too much of your upper gums show when you smile.
There's no precise standard for a "gummy smile"—it's often a matter of perception. As a rule of thumb, though, we consider a smile "gummy" if four or more millimeters of upper gum tissue show while smiling. In any event if you perceive you have a gummy smile, it can greatly affect your self-confidence and overall well-being.
The good news is we can often correct or at least minimize a gummy smile. The first step, though, is to find out why the gums are so prominent.
There are a few possible causes: the most obvious, of course, is that there's more than normal gum tissue present. But the cause could be the front teeth didn't fully erupt in childhood and so the gums appear more prominent. Other causes include the upper lip moving too far upward when smiling (hypermobile) or an elongated upper jaw that's out of proportion with the face.
Finding the exact cause or combination of causes will determine what approach we take to minimize your gummy smile. If too much gum tissue or not enough of  the teeth show, we can use a surgical procedure called crown lengthening to expose more of the crown (the visible part of a tooth), as well as remove excess gum tissues and reshape them and the underlying bone for a more proportional appearance.
A hypermobile upper lip can be treated with Botox, a cosmetic injection that temporarily paralyzes the lip muscles and restricts their movement. But for a permanent solution, we could consider a surgical procedure to limit upper lip movement.
Surgery may also be necessary for an abnormal jaw structure to reposition it in relation to the skull. If, on the other hand it's the teeth's position and not the jaw causing gum prominence, we may be able to correct it with orthodontics.
As you can see, there are several ways varying in complexity to correct a gummy smile. To know what will work best for you, you'll need to undergo an orofacial examination to determine the underlying cause. It's quite possible there's a way to improve your smile and regain your self-confidence.
If you would like more information on improving a gummy smile, please contact us or schedule an appointment for a consultation. You can also learn more about this topic by reading the Dear Doctor magazine article "Gummy Smiles."